Saturday, January 31, 2015
Happy Saturday, I hope that the below quotes will give you a sense of direction if you want to forgive someone or not. I think that at times we all go through a phase of anger and bitterness and we find it hard to forgive. Hey Stop!!! you are only human and are allowed to be mad and bitter, but don't stay there for too long as it is not healthy.
"Always forgive your enemies; nothing annoys them so much."
"The weak can never forgive. Forgiveness is the attribute of the strong."
"Life is short, Break the Rules.
Forgive quickly, Kiss SLOWLY.
Love truly. Laugh uncontrollably
And never regret ANYTHING
"The truth is, unless you let go, unless you forgive yourself, unless you forgive the situation, unless you realize that the situation is over, you cannot move forward."
"Any fool knows men and women think differently at times, but the biggest difference is this. Men forget, but never forgive; women forgive, but never forget."
"Confront the dark parts of yourself, and work to banish them with illumination and forgiveness. Your willingness to wrestle with your demons will cause your angels to sing."
"You will find that it is necessary to let things go; simply for the reason that they are heavy. So let them go, let go of them. I tie no weights to my ankles."
"It is easier to forgive an enemy than to forgive a friend."
"We can easily forgive a child who is afraid of the dark; the real tragedy of life is when men are afraid of the light."
"True forgiveness is when you can say, "Thank you for that experience."
Today is my 25th birthday.
I've just realized that life is pretty amazing.
Life is amazing in a sense that it is filled with choices, disappointments, and sadly a lot of unanswered questions.
The choices I make today will determine the quality of my life both now and in the future.
Our real blessings often appear to us in the shape of pains, losses and disappointments; but let us have patience and we soon shall see them in their proper figures.
"Life is filled with unanswered questions, but it is the courage to seek those answers that continues to give meaning to life. You can spend your life wallowing in despair, wondering why you were the one who was led towards the road strewn with pain, or you can be grateful that you are strong enough to survive it."
I would like to acknowledge for the following people.
"When God created mothers...".
Mommy (I miss you today and everyday), thank you for being you and teaching me that it is okay to have flaws and to be different. Dad you were also taken away from me too soon, but thank you for being there for me in the first six months of my life. My Grandma for being a true socialite and also being there for me during the most difficult times in my life. My nephews Lolo, Andile, Siya and Thando for being little brothers I never had. My niece Given for being my true girl friend. My sisters Pamela and Cindy y
ou don't love someone because they're perfect, you love them in spite of the fact that they're not and that is why I will always love you. My Friends too many to count, I love you all.
Every single one of my blog readers, Facebook, Twitter and Instagram Friends for absorbing my crazy and making me feel that community isn't tied to geography and that we have the unimaginable power to make a difference in each other's lives.
I am who I am because of the delicious beauty of the people around me, and I'm the happiest I've ever been having all of you to share this birthday with.
Friday, January 23, 2015
Soweto, South Africa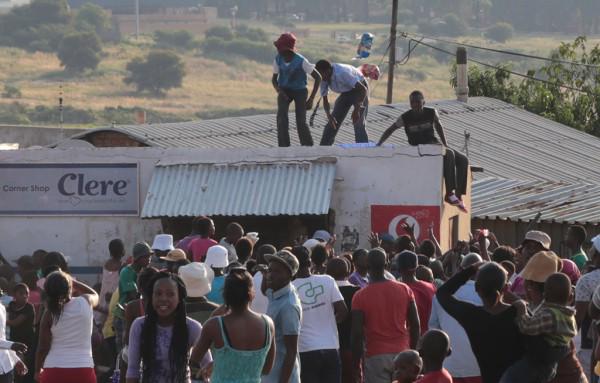 Hi guys, I will not yet go into the politics of things, I will
just show you the pictures. Dear Sowetan's please keep safe.